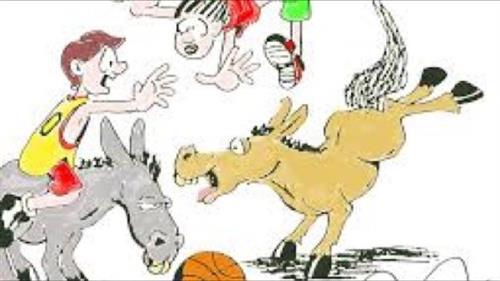 DONKEY BASKETBALL is coming to Edgerton.
April 8th from 6:30-8:30
Cost $8 in advance or $10 at the door. Children under 5 are free.
Free Donkey rides to children at half-time.
See an FFA Member or go to the C-Store or First State Bank SW to get advanced tickets.
Hurry before all the tickets are sold.
Games: STAFF vs FFA Students and Chamber Members vs FFA Parents. Which team will you cheer for?
Edgerton Public School is located in Edgerton Minnesota. We are a small public school with approximately 400 students in grades K-12. We have many quality programs in our school that provide students with the opportunity to excel in the Arts, Academics, and Athletics. With our exceptional staff we are implementing best practices to make sure all of our students have the education needed to prepare them for whichever path they choose after high school.
The Dutchmen also boast State Championships in Boys Basketball (1960), Football (2011), and Softball (2016- Edgerton/Southwest Christian).
We have a new 1st and 2nd grade wing and it is working out wonderfully. The students are so excited to have their new space as well as the teachers. They are settled in and have their rooms just the way they like them. The students really like that they each get two lockers, especially in the winter so the bottom one can hold their wet items and the top one their dry items.